NEW!
3-Wheel Basic RiderCourse (3WBRC)
• Sponsored by the Motorcycle Safety Foundation (MSF)
• Approved by NYS DMV for 3-wheel only motorcycle license
• Two day course – classroom and on-vehicle riding exercises
• 3-Wheel motorcycles provided by Can-Am (two wheels in the front and one wheel in the back)
• May be taken on your personal trike
• Designed for the student who plans to ride a 3-wheel motorcycle only.
• Waiver is NOT valid for a 2-wheel motorcycle license
• Pre-requisite: Must possess a valid NYS driver's license.
MSF's 3-Wheel Basic RiderCourse is taught on school-provided 3-wheel training units (supplied by Can-Am – both Spyder and Ryker models) that have two wheels in the front and one in the back. You may bring your own street legal 3-wheel motorcycle to the class if you prefer. Proof of current registration and insurance required. Motorcycle/side car rigs and sit-in car-style 3-wheel vehicles are not permitted in the class. If you plan to ride a 2-wheel motorcycle, you must take the BRC or BRC-2 for license waiver course.
Before you register for a class, please make sure that the dates and times that you register for are correct and that you can attend all sessions. Once registration and payment are made, no changes or cancellations are allowed and there are NO REFUNDS! This class is held rain or shine!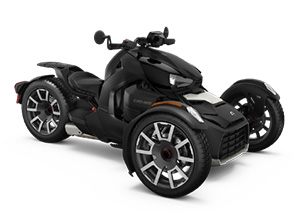 The 3WBRC is a research-based and action-oriented core curriculum designed to teach beginning 3-wheel motorcyclists of all ages the physical and mental skills necessary to ride safely on the street. It includes basic 3-wheel motorcycle operation, maximum effective braking techniques, turning skills, obstacle avoidance maneuvers, classroom instruction and "on 3WMC" training.Graduates are entitled to receive the NYS DMV road test waiver for 3-wheel only motorcycle license. The license issued by DMV, after successful completion, will be restricted to operating a 3-wheel motorcycle ONLY and is not valid for a 2-wheel motorcycle.
Requirements:
No experience is necessary.
No student will be allowed to participate without meeting pre-requisites and required riding gear listed under the 3WBRC Ride Prerequisites. (No Refunds)
NYS DMV Policy states: All students MUST possess a valid NYS driver's license or motorcycle driver's license in order to participate in the 3-Wheel Basic RiderCourse. Students will not be allowed to participate in the class if you arrive at class without a valid NYS driver's license or motorcycle license. All students who are 16 and 17 years of age must have a notarized parent or guardian signature on the Participant Release, Waiver and Indemnification Form prior to the start of practice riding – NO EXCEPTIONS. There will be no refund or re-schedule given. NYSMSP also accepts out-of-state student credentials that are acceptable to the New York Department of Motor Vehicles. To qualify for the 3-wheel motorcycle road test waiver, the student must present a current and valid New York State driver's license. Students will be required to obtain a NYS Motorcycle learner's permit prior to using the completion card for the road test waiver. You do NOT need the learner's permit to take the class but will need one to use your completion card (See FAQs and our Refund policy for more detail)
Students who possess a valid NYS Driver's License and valid NYS Motorcycle Learner's Permit may use successful completion of this course as an alternative to the motorcycle road test. (See FAQs for further detail)
Cost: $49 for 2019 classes if you sign up June 20 through August 31. Please note there are NO REFUNDS for cancellations for this course!
Scheduling:
Our schedule is now available. Please click on the link below for the schedule.
We have partnered with BRP – CanAm – to bring you a great discount on the 3Wheel Basic RiderCourse.
Click the BRP image below to register for this course.