Fits like a glove
by George Tranos
Gloves are an important piece of safety equipment that every motorcyclist should wear whenever they are riding. Why are they so important? The first reaction of anyone who falls is to try to brace for impact with their hands and arms. It makes sense to protect these sensitive parts by wearing quality, motorcycle specific gloves.
There are three main nerves that control function in our hands: the median, ulnar and radial nerves. Damage to any of them can cause muscle spasms, twitching or can prevent a muscle from relaxing. Damage can also cause range-of-motion problems. Neuropathy in the hands means that you are experiencing paid in your nerves. Falling on a motorcycle without gloves can cause nerve damage, road rash, infection and other even more grave injuries.
Motorcycle gloves are made specifically for protection and comfort. They are different from gloves worn for leisure. Full-fingered gloves are important because they cover the vulnerable fingertips. Half-fingered gloves are not appropriate for motorcycling.
Motorcycle-specific gloves provide protection for the fingers, palms, knuckles and the back of the hand. They have precurved fingers so your hands will fit comfortably around motorcycle grips. They may have fasteners that prevent the gloves from coming off unintentionally. They may have seems on the outside for better comfort. Higher end gloves have special material on the palms or back of the glove to allow the hands to slide if they contact the pavement. Motorcycle gloves may have longer gauntlets to fit over riding jackets to prevent the wind from blowing up your sleeves.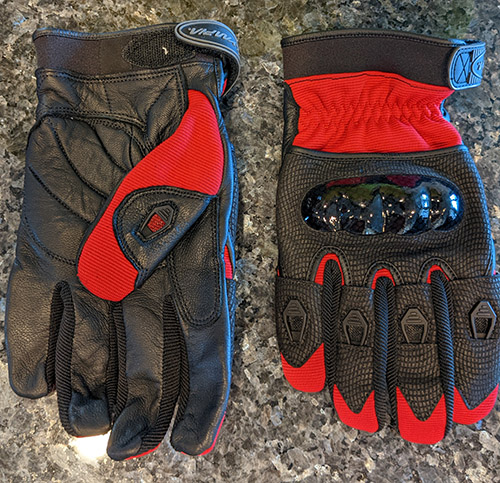 Notice the material and protective features of this inexpensive motorcycle specific glove
Material for motorcycle gloves ranges from leather such as goatskin or cowhide to textile materials such as nylon, kevlar and even kangaroo. Special material may be used for the sliders, knuckles and straps. Buttons, zippers and velcro are all common for retaining pieces.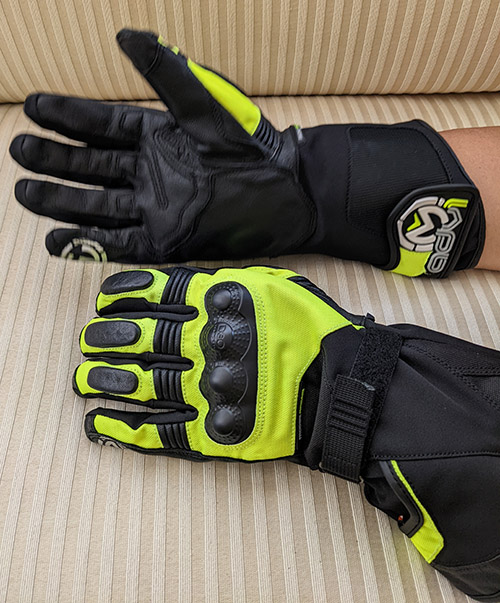 Theses gloves have two velcro closures to keep the gloves from falling off
No one set of gloves can do everything in every season. Gloves made for cold weather may not be appropriate in the summertime and visa-versa. There are specific gloves and material that may work better when it's raining. Waterproof material such as Gore-Tex may be incorporated into the gloves as a permeable membrane that keeps water out but lets perspiration through. Other gloves may be ventilated or made from mesh material to allow air to circulate better in the heat. Most longtime motorcycle riders have multiple pairs of gloves to handle the changing conditions when riding a motorcycle.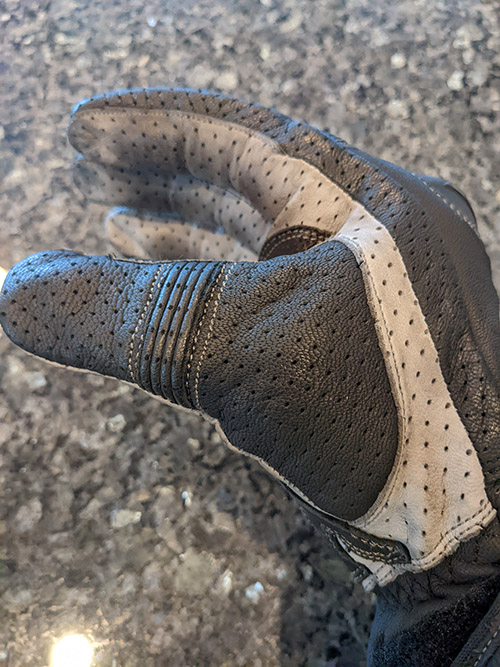 Motorcycle specific gloves have precurved fingers to fit comfortably around motorcycle grips
Gloves can keep you warm in the colder weather and protect the hands from bugs, dirt and other road debris hitting your hands. The well prepared motorcyclist uses all-the-gear, all-the-time (ATGATT) to reduce the risk of riding. Well chosen motorcycle gloves and a good helmet that fits you properly are the primary parts of the ATGATT strategy. Other items to consider including a riding jacket with protective armor, riding pants, over-the-ankle footwear (and more specifically motorcycle riding boots) and proper eye protection. Another good choice is bright or retro-reflective material to help you be seen better. While black seemed to be the color of choice in the past, today more riders are opting for more visible and stylish colors. These all help reduce the risk of riding and make the user more comfortable and more visible.