Motorcycle review – BMW F750GS.
By George Tranos
I've always liked twin cylinder engines. My first new bike was a 1977 Suzuki GS400 with a parallel twin. Over the years, I've owned other unusual engine configurations including a 2005 Triumph Sprint ST with a three-cylinder, 1055cc motor and a 2003 BMW R1150R with its air/oil cooled "boxer" twin (the classic BMW opposed two-cylinder). My latest purchase is a 2019 BMW F750GS, a misnamed 853cc, liquid-cooled, 4-valves-per-cylinder parallel twin.

Twins normally exhibit an abundance of torque. This twisting force is what propels you forward and twins have a way of making that torque available at low engine speed (RPM). This BMW is no different, with good power available fairly low in its rev range. Really good power comes on at about 4,000 RPM and continues to the 8,500 RPM redline.

Classified as an "adventure" bike, the F750GS is more street biased, with its cast wheels and 90/10 tires (meant to be utilized only 10% of the time off-road). It also comes standard with a 19-inch front and 17-inch rear tire – again more slanted to street riding than its more dirt-oriented brother, the F850GS which has a 21-inch front tire, wire wheels and knobbier tires.

With its upright riding position, tubular handlebar and lowered footpegs, the F750GS makes a decent highway mount. It has some nice features that help it on the road. It has different riding modes that alter throttle response, maximum power and other settings (such as anti-lock braking). The modes are ENDURO, RAIN, ROAD and DYNAMIC; in ascending orders of performance. Safety features include anti-lock brakes (ABS), cornering ABS (which helps when you apply the brakes too hard in a turn), electronic suspension adjustment (ESA) and dynamic traction control (DTC). It has a very accurate cruise control with set and resume features and a nice speed setting display (more on this later). This is a great feature for long, boring highways or to keep your speed constant in cities, school and work zones.

The F750GS has a reasonable seat height for an adventure tourer, with options ranging from 30.3 to 32.7 inches depending on the seat choice. Wet weight with all fluids is a manageable 493 pounds. It's light enough to be able to push around easily in your driveway and this also makes for easy handling on the road. The turning radius is good so U-turns should be no problem when you make that wrong turn! Speaking of which, the optional BMW Navigator VI integrates nicely with the motorcycle and can keep you from getting lost. A rebadged Garmin GPS, the Navigator will be easy to use for anyone familiar with Garmin products.

So how's all of this technology work? In a word, fantastic! Compared to its predecessor, the F700GS, the F750GS has a much lower first gear, both for off-road plonking as well as making it much easier to launch from a start. This reduces the necessity of using the clutch at low speeds. The clutch is also much less effort than the F700GS and doesn't need to be used as often. This should provide for better rider comfort and less hand fatigue when encountering traffic or going down that slow speed fire road.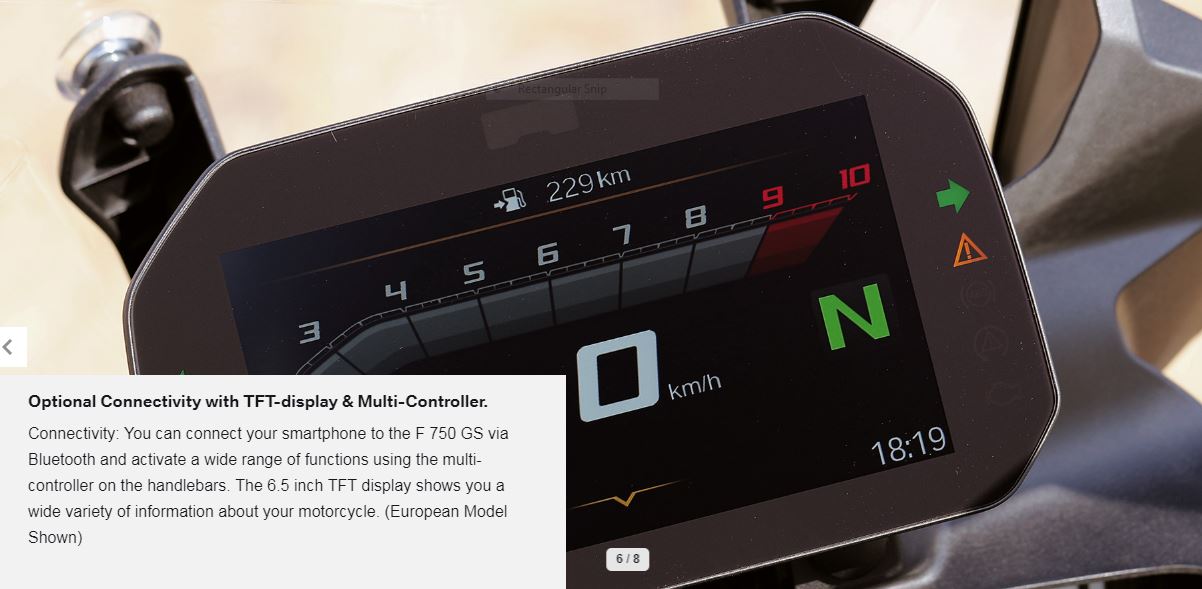 This motorcycle is also better balanced than the F700GS. There is much less buzz in the handlebars at highway cruising speed. The cruise control enhances this comfort as the rider can rest their right hand and not have to hold the throttle open. The optional 6.5 inch, color TFT (thin-film-transistor) display provides all the information you need at a glance. Easily viewable day or night, the primary screen shows a large digital speed display, a graphic analog tachometer, a gear position indicator, outside temperature, current time, mode display, cruise control speed if enabled and other user selectable information (such as range to empty, fuel gauge, etc.). A menu button on the left handgrip and multi-controller wheel allow the rider to toggle thru different menus, settings and displays. A tire pressure monitor (TPM) displays both actual and desired front and rear tire pressures. A resettable trip computer displays miles run this trip, time elapsed, miles-per-gallon and other information. Two minor things that drove me crazy until I figured them out were how to display the fuel gauge (toggle UP on the menu button when in the primary display) and where the engine temperature gauge was (there is no gauge – just an actual engine temperature on the MY VEHICLE screen). It is vital to read the owner's manual to get the most out of the instrument cluster and configure it to your liking.

When the road gets windy, the F750GS comes into its element. Light weight but stable, the motorcycle handles well in all conditions. Its upright handlebar makes low-speed parking lot maneuvers a snap. The motorcycle holds its line well when leaned and changes direction easily. Riding hills and curves is part of this motorcycle's DNA and very enjoyable! While not intended as an interstate mile eater, highway cruising is tolerable as well with its rational riding position, flexible engine and cruise control. The only negative is the bike doesn't have a lot of wind protection.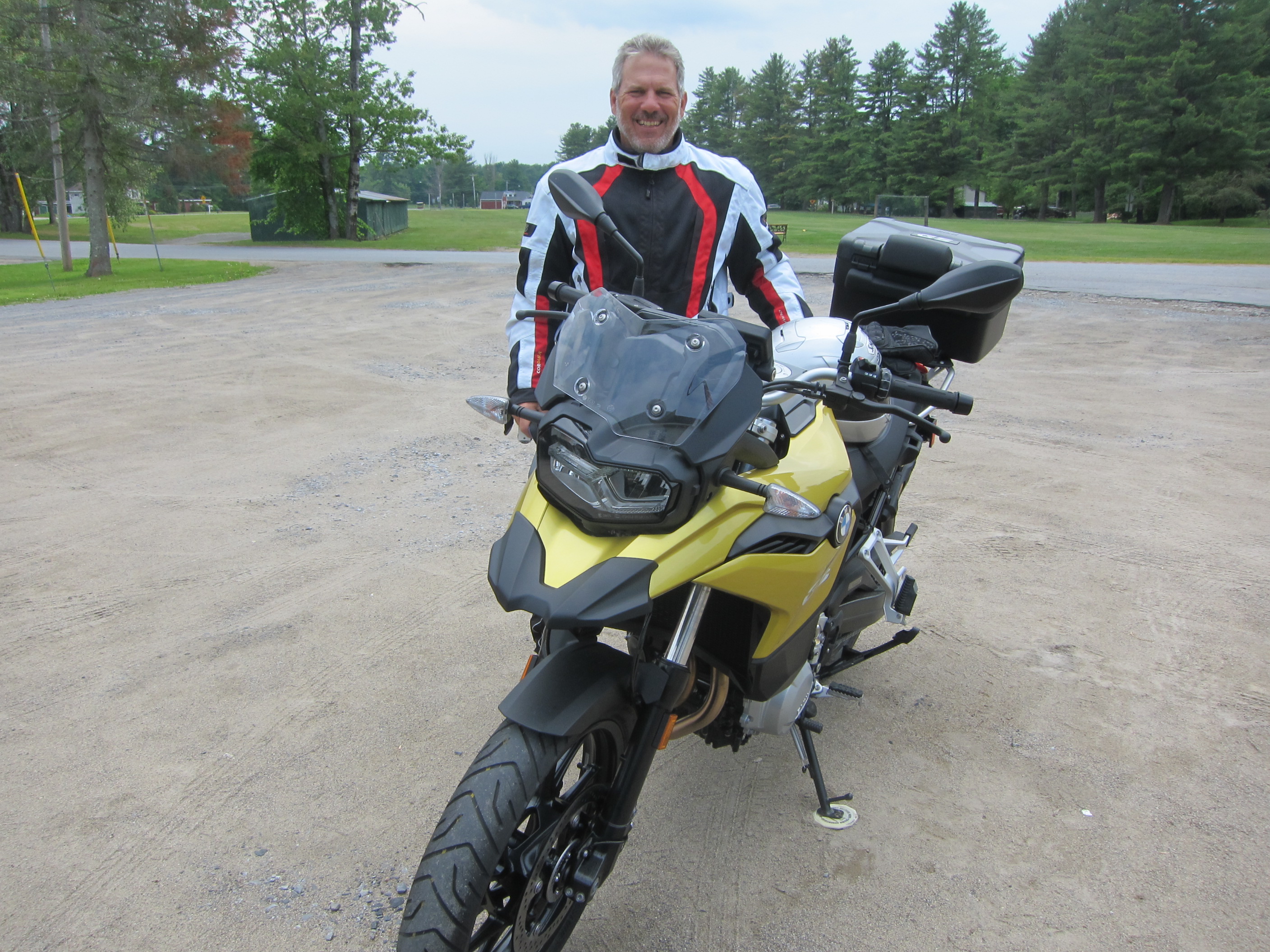 Storage space is configurable. Saddlebags and a top box are good options. BMW makes vario-cases with an expandable hard case that can be altered by moving an internal bar. The cases are opened by the key that comes with the bike. Speaking of which, the motorcycle has push button starting with a key fob that needs to be near the motorcycle to enable it. It also has an electronic fork lock and gas cap! This allows you to not have to fumble for a key and keep it in your pocket when you ride. I also purchased the BMW tank bag which works well but is not very large. Previous tank bags that I've owned were able to accommodate my helmet's extra face shield but this one is not large enough to do so. The tank bag also slightly obscures the lower portion of the GPS. Again, this is not a real problem – just a niggling complaint.

The 6-speed transmission works well. Shifts are buttery smooth when using the clutch. The bike also comes with a quickshifter which allows both clutchless upshifts and downshifts. The quickshifter can be a little clunky but works well otherwise. Between the light pull clutch and the buttery shifting, manipulating this manual transmission is very rewarding. Braking is also very good, with dual 2-piston front and single piston rear disc brakes. There is some fork compression when weight shifts forward, noticeable when transitioning from a more sport-oriented motorcycle with less suspension travel. Again, this is not a game changer, it's just a noticeable part of the bike's personality.

The BMW F750GS is a very capable, mid-sized motorcycle. It has become my primary bike in a stable of heavier and more powerful machines. Its combination of light weight, flexible engine, good handling, modern technology and safety features are very attractive. Coming from a heavier, more sporting bike, the change to the F750GS provides adequate performance, good handling and a far more comfortable machine. It's easier to get out of the garage, fun to ride and much more comfortable. For this aging baby-boomer, it's just the ticket to many more days and miles in the saddle!

PLUS: Flexible engine, good handling, modern technology, safety features.
MINUS: Lack of wind protection, somewhat uncomfortable seat (it has gotten better as it's broken in).
OVERALL: This mid-sized adventure bike may have just the combination of features to keep you riding more and longer!